By using the Five Star Restaurant Reservations plugin in combination with the Five Star Business Profile and Schema plugin, you can enable multiple locations. It adds a location select field to your booking form and allows you to view and manage bookings by location.
To get started, install the Business Profile plugin, set up your restaurant profile and then enable multiple locations.
Once you create a location using the Business Profile plugin, the booking form will add a Locations field.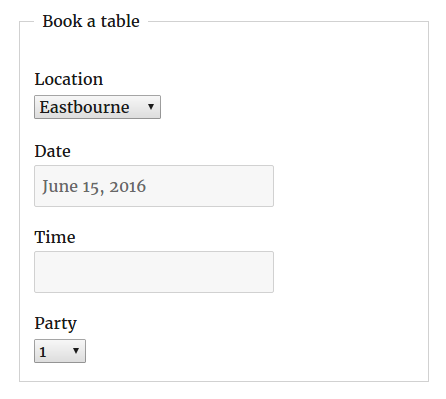 All bookings made when a location exists will be assigned to a location. In this example, we see one booking created before locations were enabled and another created after.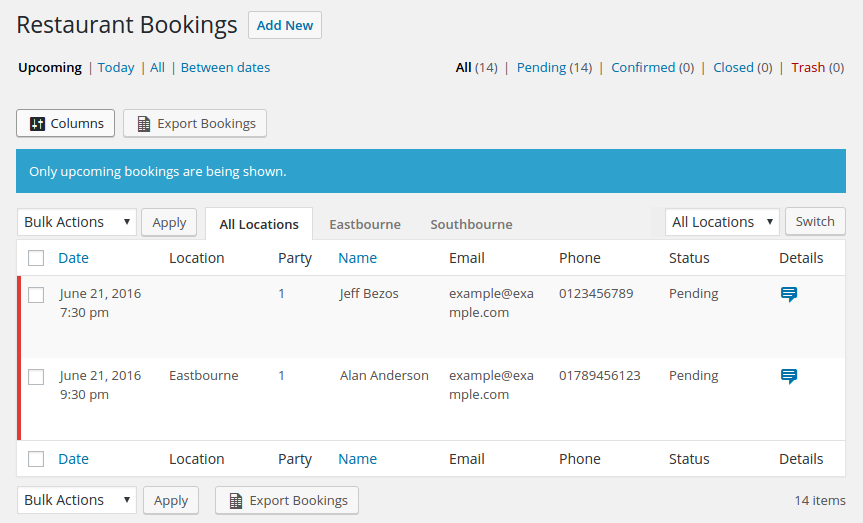 You can click the tabs above the list to view only bookings for that location. Or use the location switcher on the right if you have a large number of locations.
Configuring bookings for each location
When using Business Profile alongside Five Star Restaurant Reservations, you'll find an additional set of configuration fields for each Location.
If you go to the Locations page in your WordPress admin area and then click on a location, you'll find the following metabox.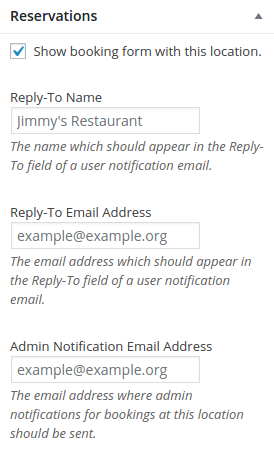 This allows you to customize the settings for each location.
You can send new booking notifications to a custom email address. And you can specify a custom Reply-To Name and Email Address for those notifications.
You can also choose whether or not to automatically show a booking form on this location's page. When checked, the form will not display the location field. Any form submitted on a location's own page will automatically be assigned to that location.
Location shortcode
When multiple locations are enabled, you can pass a new location attribute to the [booking-form] shortcode. This should point to the location's post ID.
So if your location has an ID of 123, the following shortcode would print a booking form in which all bookings would automatically be assigned to that location.
[booking-form location="123"]
Common questions/problems
I created a location but it's not a booking option
If you have created a location but it doesn't appear in your Bookings panel, you may need to re-save the location. This is usually because the location was created before Five Star Restaurant Reservations was active and updated to the appropriate version.
My "main" location isn't a booking option
Your "main" location is treated by Google and other search engines like a "parent" location. This makes sense for many businesses which might have a main office or headquarters.
But restaurants don't often have this. To compensate, you may need to duplicate your main Business Profile details as a location of their own. This may seem like extra work, but it helps Google interpret the relationship between your business and it's locations.