Here we explain how you can easily confirm and reject bookings, and how you can modify the details of a booking.
Confirm and Reject Bookings
To confirm or reject a booking, tick the checkbox to the left of a booking. Select the action you'd like to take and then click the Apply button. In this image, we're about to confirm a booking.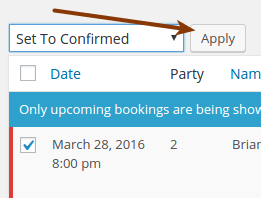 If you have several pending bookings, you can confirm them all at once by ticking the checkboxes beside multiple bookings before clicking the Apply button.
Confirm or reject a booking without sending an email notification
By default, when you confirm or reject a booking, an email will be sent to the customer informing them. If you'd like to confirm or reject a booking without sending out an email notification, you can do this through the edit booking popup.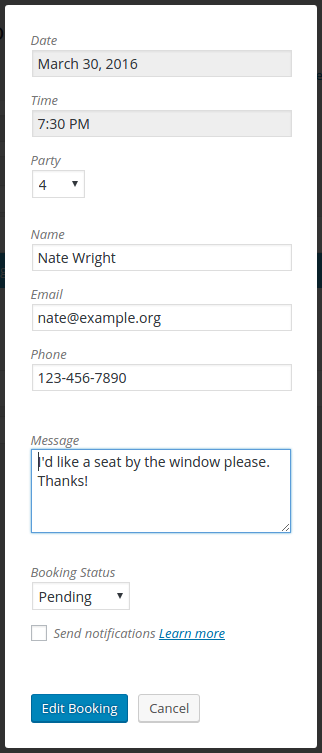 Change the booking status to whatever you'd like, make sure the checkbox next to Send Notifications is not checked, and then edit the booking.
This is useful in situations where you may need to make changes to a booking after speaking to a customer directly.
Confirm or reject a booking directly from an email notification
If you've enabled the Admin Notification Email in the settings, you can include a quick link to confirm or reject a booking straight from the email.
In order for this to work, you'll need to be logged into your WordPress website. Keeping a tablet or mobile phone in your restaurant that's logged in is a great way to quickly manage incoming booking requests.
Edit the details of a booking
You can edit each booking by moving your mouse over the booking in the list and clicking the Edit link.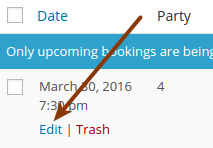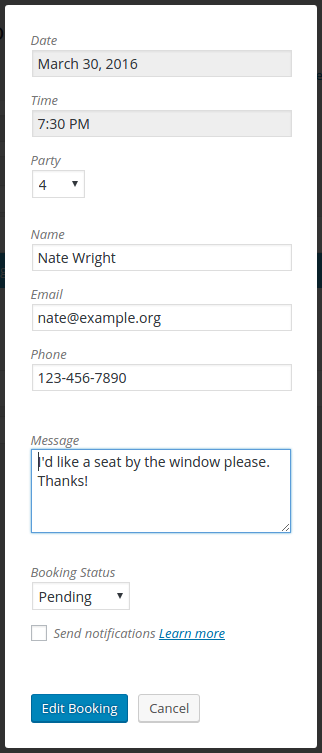 This is useful in cases where a customer might phone in with a change to their booking.
When you edit a booking in this way, no notifications are sent to the customer by default. Check the Send Notifications box if you want to send notifications out.
Five Star Restaurant Manager Mobile App
You can also manage your bookings directly in the Five Star Restaurant Manage Mobile App. This way you can have your host view upcoming bookings and check guests in from a tablet front of house, all without having to log in to WordPress. And you can manage bookings on the go from your phone!
For more info about this, please see here.